2021 Chevy Equinox Towing Capacity & Specs

The 2021 Chevrolet Equinox towing capacity is a maximum of 3,500 pounds. It's capable of towing anything from dirt bikes to pop-up campers depending on how you equip it. The Equinox model lineup has a wide range of options and engine equipment to fit all of your towing needs. Learn more about the new 2021 Chevy Equinox towing capacity and Equinox payload with us at Ken Garff Chevrolet.
2021 Chevy Equinox Available Engines & Towing Capacity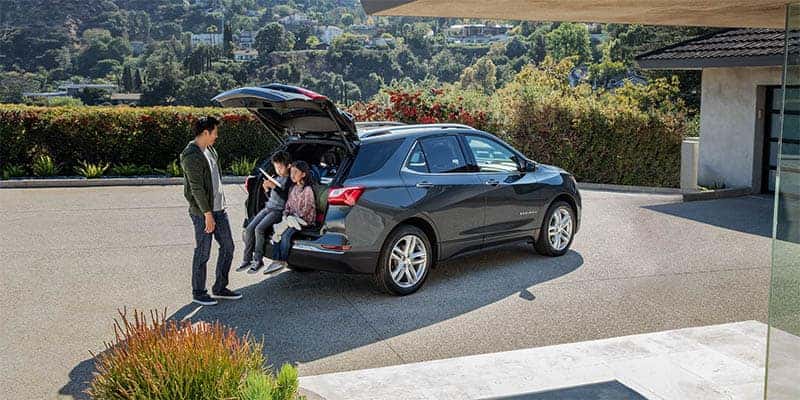 The Chevy Equinox has a wide range of features and options that can be equipped to best fit your needs. There are two engine options available, depending on which one you choose, you can increase the towing capacity from 1,500 pounds to a whopping 3,500 pounds. Here are some of the Equinox engine specs and towing capacities:
EcoTec 1.5L Turbocharged Engine: The standard engine offered in the Equinox is the EcoTec 1.5L turbocharged engine. It features a GCWR rating of 5,247 pounds in FWD form. When equipped with AWD, the Equinox payload can equal 1,165 pounds, and a GCWR rating increases to 5,467 pounds. Regardless of what drivetrain you choose, it gives the Chevrolet Equinox a towing capacity of up to 1,500 pounds.
2.0L Turbocharged Engine: You can also opt for the 2.0L turbocharged engine, this can increase the Chevy Equinox payload to 1,185 pounds and boosts the GCWR rating to 7,694 pounds. On top of the 2.0L turbocharged Equinox engine option, you also have the ability to add the Chevy Equinox towing package which increases the Equinox towing specs to a maximum capacity of 3,500 pounds.
What Can the Chevy Equinox Tow?
The Chevy Equinox has a great towing capacity and payload. It's even more impressive when you equip the Chevy Equinox with the towing package. One of the many things the Equinox is capable of towing is a trailer. Chevy's towing guide suggests when towing a trailer, choose one that has a tongue weight of no more than 10% to 15% of the vehicle's GCWR or gross combination weight rating.
You can safely tow up to about 4,500 pounds with the appropriate hitch. If you have any questions about which hitch to us, please contact our parts department.
If the Equinox is equipped with the 1.5L engine, it can tow smaller trailers, similar to a teardrop camper. If the larger 2.0L engine is equipped, it can tow something larger, such as an Airstream Caravel.
Aside from camping trailers, the Equinox can haul something like the Big Tex Trailer's 35SV utility trailer (77-inch x 10-14 feet) fully loaded if equipped with the 2.0L turbocharged engine. Otherwise, the 1.5L turbocharged Equinox engine can also tow this trailer — just not filled to its full capacity.
Explore the 2021 Chevy Equinox Specs at Ken Garff Chevrolet
Whether you need the Equinox SUV for a road trip to Lehi or just for short trips around American Fork, it's versatile enough to fit all of your needs. This Chevy SUV was made to handle anything you throw at it and we would love for you to experience that on your own. Stop in at Ken Garff Chevrolet today to learn more about the Chevrolet Equinox payload and towing capacity and become a part of the Ken Garff Family. When you're ready, you can apply for financing to estimate the costs of a new Equinox or contact us with any questions.
More From Ken Garff Chevrolet