SILVERADO CHASSIS CABS IN THE BUSINESS OF GETTING IT DONE RIGHT No matter how hard the task is, Silverado has a Chassis Cab that is ready to take it on. The Silverado 4500 HD, 5500 HD and 6500 HD are ready to be upfitted for the needs of your business. With excellent maneuverability, forward visibility and advanced technology, Silverado has a productive and efficient lineup to get it done right. The first time. GET THE WHOLE RUN DOWN Take an in-depth look at the 2020 Silverado Medium Duty Chassis Cab. COMPARE CHOOSE FROM A PLACE OF STRENGTH Your job begins by choosing the right work truck for your fleet. Each dependable Silverado Chassis Cab is ready for a wide variety of upfit options, including a utility body, dump truck and stake body.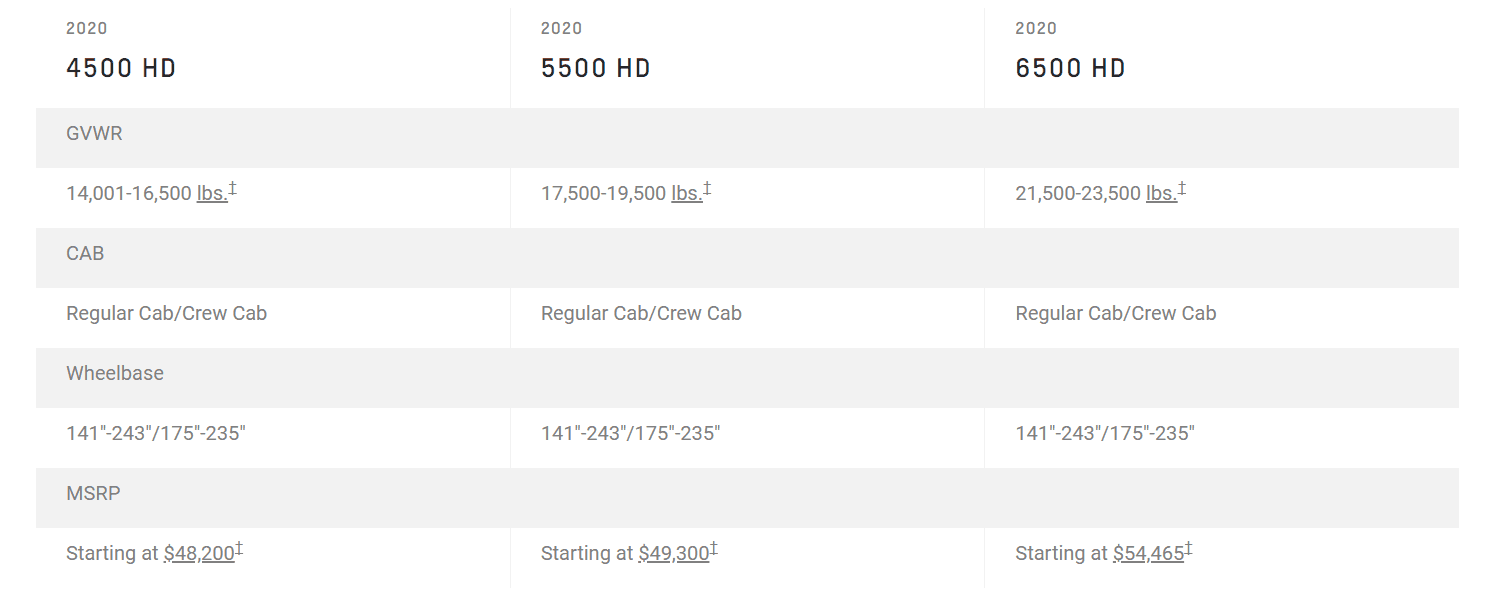 UPFIT UPGRADE
PROVIDING A STRONG, SOLID STRUCTURE FOR YOUR UPFIT NEEDS
Silverado Chassis Cabs are built with a robust single-piece frame rail for enhanced durability. They feature a wide range of cab-to-axle offerings for a variety of upfits and a clean top-of-rail design to make upfitting easy. They come with a painted chassis that helps protect against corrosion, a fuel tank capacity of up to 65 gallons and available factory rear air suspension.
PERFORMANCE
POWER THAT'S NONNEGOTIABLE
There are some things you never compromise on. That's why every Silverado Chassis Cab delivers with a Duramax® 6.6L Turbo-Diesel V8 engine paired with an Allison® transmission. The increased cooling efficiency and performance brought to you by the distinctive flowtie – a silhouette of the Chevrolet bowtie emblem.
Design
THERE'S NO TIME FOR DOWNTIME
Access is key to keeping your business on the move. From the engine cover to the wheel cut, everything about these trucks was designed to make your maintenance needs easier.
Shop Medium Duty Trucks